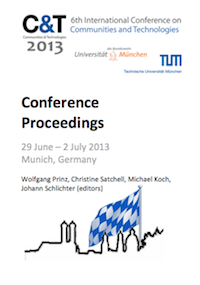 C&T 2013: 6th International Conference on Communities and Technologies
The Communities and Technologies 2013 conference received 46 submissions for full papers and 12 submissions for research in progress papers. From these submissions, 17 papers were selected to appear at the conference (29%). All submitted papers were subjected to double blind peer review by an independent international program committee of 51 experts.
Communities & Technologies 2013, June 29 – July 2, 2013, Munich, Germany. Edited by Wolfgang Prinz, Christine Satchell, Michael Koch, Johann Schlichter. Published by ACM and the European Society for Socially Embedded Technologies (EUSSET).
ISBN: 978-1-4503-2104-4
Authors with most documents