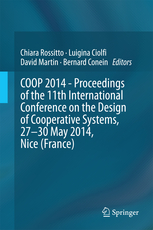 COOP 2014: Proceedings of the 11th International Conference on the Design of Cooperative Systems
This volume presents the proceedings of the 11th International Conference on the Design of Cooperative Systems (COOP 2014). The conference is a venue for multidisciplinary research contributing to the design, assessment and analysis of cooperative systems and their integration in organizations, public venues, and everyday life. COOP emerged from the European tradition of Computer Supported Cooperative Work (CSCW) and Cognitive Ergonomics as practiced in France.
These proceedings are a collection of 28 papers reflecting the variety of research activities in the field, as well as an increasing interest in investigating the use and design of ICT in all aspects of everyday life and society, and not merely in the workplace. The papers represent a variety of research topics, from healthcare to sustainable mobility to disaster response, in settings from all over the world. For the first time, the proceedings include papers presented in an Early-Career Researchers Track which was organized in order to give young researchers the opportunity to discuss their work with an international community.
This collection of papers provides a picture of new developments and classic topics of research around cooperative systems, based on the principle that a deep knowledge of cooperative practices is a key to understanding technology impacts and producing quality designs. The articles presented will appeal to researchers and practitioners alike, as they combine an understanding of the nature of work with the possibilities offered by novel digital technologies.
27-30 May 2014, Nice (France)
Authors with most documents