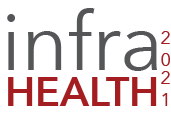 InfraHealth 2021: Proceedings of the 8th International Conference on Infrastructures for Healthcare
infraHealth 2021: Proceedings of the 8th International Conference on Infrastructures in Healthcare: Digitalization and Personal Health Data https://infrahealth.eusset.eu/
Infrastructures in healthcare play a key role in the ongoing transformative processes of digitalization. Emerging technologies such as artificial intelligence (AI) and the Internet of Things (IoT) accelerate transformation, while the growing availability of patient-oriented health applications contributes to a more active involvement of patients in their own care and well-being. The generation of personal health data is a key outcome and at the same time, a drive and a crucial building block of healthcare digitalization. More personal health data are collected in digital form than ever before. Through mobile phones, smart watches and other connected devices patients can self-report health data, monitor their chronic conditions, support their rehabilitation process, engage with personal wellness actively, by following training and activity data. This requires appropriate infrastructure capabilities, data sharing platforms and governance arrangements for data storage, curation and access as well as for having control of personal health data.
Digitalization is not about technology alone, it occurs at the intersection of people, healthcare systems and technology. New skills for both citizens and healthcare workers are required in data gathering and use. Digitalization generates changes in work organisation and task distribution, requires novel competences and opens up for learning opportunities. Advanced technology use requires broader and future-oriented, as well as more high-level skills and competencies from both patients and health professionals to secure the continuity of healthcare services.
Digitalization also calls for critical perspectives on the evolution and utilization of digital infrastructures for personal health data. Novel approaches are needed to manage consent and data guardianship, and to educate both citizens and health personnel to understand risks. With an increased availability of personal health data, the modes of healthcare provision can be reshaped, requiring new ways of organizing health services.
We wish to bring international researchers, healthcare professionals, IT professionals, administrators, and IT enterprises together to discuss these issues at the 8th International Conference on Infrastructures in Healthcare 2021. We particularly invite contributions that are methodologically based on ethnographic/case/field studies.
infraHEALTH started out as a biennial workshop, from 2019 a biannual conference. The events were held so far in different universities in Copenhagen, Denmark (2007, 2009, and 2011), the Arctic University of Norway (Tromsø), Norway (2013), Fondazione Bruno Kessler and University of Trento, Italy (2015), again in Denmark, Aarhus University (2017), and in Vienna, TU Wien (2019).
The 8th conference took place in Kristiansand, Norway. The conference is co-organized by the University of Agder, University of Oslo and Vienna University of Technology (TU Wien).
Polyxeni Vasilakopoulou, Miria Grisot, Hilda Tellioglu
Conference Chairs
Authors with most documents