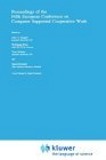 ECSCW 1997: Proceedings of the Fifth European Conference on Computer Supported Cooperative Work
7-11 September 1997, Lancaster, UK
General Chairs: Tom Rodden, Lancaster University, UK
John Hughes, Lancaster University, UK
Program Chair: Wolfgang Prinz, GMD, Germany
The emergence of network facilities and the increased availability of personal computer systems over the last decade has seen the development of interest in the use of computers to support cooperative work. This volume presents the proceedings of the fifth European conference on Computer Supported Cooperative Work (CSCW). This is a multidisciplinary area which embraces both the development of new technologies and an understanding of the relationship between technology and society.
This volume contains a collection of papers that encompass activities in the field. It includes papers addressing distribute virtual environments, the use of the Internet, studies of work and emerging models, theories and techniques to support the development of cooperative applications. The papers present emerging technologies alongside new methods and approaches to the development of this important class of applications.
The work in this volume represents the best of the current research and practice within CSCW. The collection of papers presented here will appeal to both researchers and practitioners alike, as they combine an understanding of the nature of work with the possibilities offered by new technologies.
Authors with most documents